One of the most juicy and mouth watering sweet made with flour and milk (khoya). A Bengali specialty. Server usually during special festivals. It takes time to prepare but it is worth it.
Servings: 15 | Time To Prepare: 45 minutes | Submitted By: Chitra Nag
---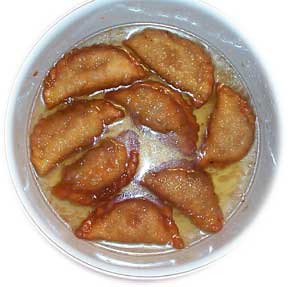 Ingredients
1, lb Maida
8, 0z Khoya
3, cup Sugar
12, Raisins
8, sliced Pesta
6, sliced Almond
2, crush seeds only Cardamom
1, cup Ghee
Instructions
Prepare the dough with maida adding one tablespoon ghee.
Mix khoya with sugar and put on heat. Add raisins, almond, pesta and crushed cardamom seeds and mix well. Remove from heat and allow to cool.
For making the luchi (puri) :- Take small amount of dough and roll into round shape.
Put one tablespoon of the prepared khoya on top of one luchi. Put another luchi on top and fold along the edge through.
Heat ghee and deep fry the chandrapulis one at a time to light golden brown. Remove and dip in the prepared syrup.
Remove from syrup after about ten minutes. Allow to cool and serve.
Note: these are the reviews posted by users on the old angithi.com website,
which has been now ported to this blog site.