Tasty fried cilantro mixed in a batter. Fast to cook and very tasty. Serve hot during tea time.
Servings: 4 | Time To Prepare: 20 min | Submitted By: Anindita Nag
---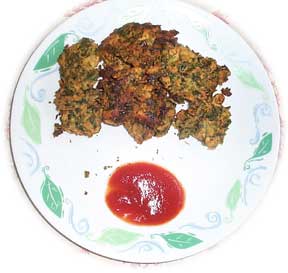 Ingredients
2, bunch, finely chopped Cilantro
5, tbsp Gram Flour
2, tsp Rice Flour
1/2, tsp Red Chili Powder
5, finely chopped Green Chili
1/4, tsp Sugar
to taste Salt
1/4, cup, or as reqd. for batter Water
1/2, cup, for frying Cooking Oil
Instructions
Mix all the ingredients except oil and water. Add water as required so that the batter is not too thick.
Heat Oil in a frying pan. Take small portions (1 tbsp) and deep fry in oil till light brown. You can fry a bunch of them together.
Strain oil, and serve with tomato ketchup.
Ratings
gkarkare (10/1/2003)….i likes this recipe. this is very nice recipe.