Chicken cooked in yogurt and green chilies. Less Spicy but very tasty.
Servings: 4 | Time To Prepare: 45 Minutes | Submitted By: Chitra Nag
---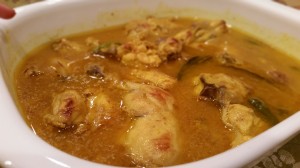 Ingredients:
Marinade the chicken
1 Cornish Chicken – 500 gms,  cut into 8 pcs

3/4 cup whipped 

yogurt
1 tsp Turmeric powder
Salt to taste
7-8 Green Chili – Slit in half
1/2 tsp sugar
2 tbsp Mustard Oil (or any oil)
2 Bay Leaves
Grind the following and strain the juice and add to the marinate above
1″ Ginger
5 pods of Garlic
3 tbsp Coriander seeds
Mix everything with the chicken and let it marinade for 30 min.
Instructions
Heat 4 tbsp oil
Cut 1 onion finely sliced and fry till light brown
Add 1 tsp Garam masala. Fry for a minute.
Add the marinated chicken
Cook in medium heat stirring occasionally (about 15/ 20 min) or till  oil comes out.
Add 2 cups of water and let it simmer for 10 minutes.
Taste the gravy for salt and add if required.
Serve hot with Basmati Rice