Servings: 4 | Time To Prepare: 30 Minutes | Submitted By: Chitra Nag
---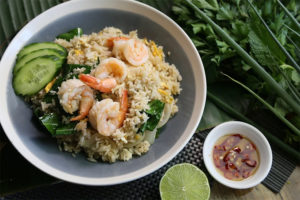 Ingredients
2, Cup (Basmati) Rice
1, Tsp (grated) Ginger
8, Oz (about 30 nos.) Prawn
1, Medium Carrot
8, French Bean
2, Green Chili
1, Small Onion
To taste Salt
A pinch Ajinomoto
4, Cups Water
4, Tbsp Cooking Oil
1, Tsp Soya Sauce
Instructions
Wash prawns. Chop French beans. Peel and cut carrot into 1.5 inch long thin strips. Chop onion and green chili finely.
Wash and soak rice in four cups of water for 15 minutes.
Cook rice till almost done but not fully.
Heat oil and fry onion, grated ginger and green chili lightly. Add carrot and beans and cook for three minutes.
Add prawns and cook for two minutes, add cooked rice and salt.Mix well and cover pan and cook for a few minutes. Remove cover. Add Soya sauce and ajinomoto. Mix well. Fry for a few minutes with stirring. Serve hot.
Ratings
mehkashi (10/16/2006)….wasn't bad at all
twinkle83 (8/26/2006)….It was very tasty but my rice came out a little soggy
anvi_c (2/26/2005)….turned out really good.but i had to fry the prawns for a longer time(separately).
riya (1/31/2004)….EXCELLENT!
mads (12/18/2002)….it really tastes wonderful & easy to make and my daughter enjoyed a lot.
Note: these are the reviews posted by users on the old angithi.com website,
which has been now ported to this blog site.