One of the most common lentil of Northern India cooked with spices.
Servings: 6 | Time To Prepare: 35 minutes | Submitted By: Chitra Nag
---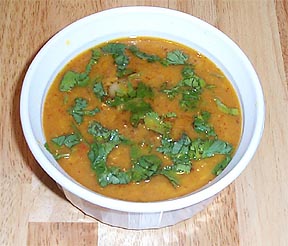 Ingredients
1.5, Cup Yellow Split Peas (Toor/Arahar Dal)
8, Cup Water
1, Tsp Turmeric powder
1, Tbsp Salt
1, Tsp (powder) Coriander Seeds
2, Tsp Sugar
5, Sliced Green Chili
2, Tbsp Cooking Oil
2, Tbsp Ghee
1, large (chopped finely) Onion
3, Pods (chopped finely) Garlic
2, Medium (chopped finely) Tomato
2, Tbsp  (chopped) Cilantro
1, Tsp Red Chili Powder
A pinch Asafetida
Instructions
Wash the dal. In a pressure cooker take four cups of water and add the dal and one tea spoon turmeric powder, one tea spoon salt.
Bring to boil and when starts steaming, reduce heat and cook for three minutes.
Cool and mash the dal with a large spoon.
Add, coriander powder, green chilies, sugar and remaining water. Bring to boil ,reduce heat and simmer for six to seven minutes.
Heat oil and ghee in a non-stick pan for one minute. Add chopped onion and garlic and fry till light brown. Add chopped tomato and cilantro and continue frying for two minutes. Add a pinch of hing and cook for a few seconds and remove from heat. Add red chili powder and dal immediately..
Serve hot with roti or steamed rice.
Ratings
daisee (12/15/2005)….Very good Arhar Dal recipe.
mimi75 (10/28/2004)….Excellent.
Shinu (3/5/2004)….Excellent dal recipe..
nilita (2/12/2004)….Lovely.. that elusive taste of small town India. And very light too.
Note: these are the reviews posted by users on the old angithi.com website,
which has been now ported to this blog site.