Authentic Indian style curried chicken. An all time favorite.
Servings: 4 | Time To Prepare: 35 Minutes | Submitted By: Chitra Nag
---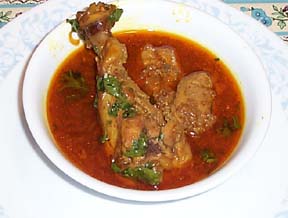 Ingredients
1, Whole Cornish Hen Chicken
0.5, Tsp Turmeric powder
To taste Salt
0.5, Tsp Sugar
2, Tsp Red Chili Powder
1.5, Tsp Coriander Seeds
0.5, Tsp Cumin Seed Powder
3, Cardamom
0.5, Inch piece Cinnamon
7, Cloves
3, Small ( Chopped) Onion
0.5, Inch piece Ginger
2, pods Garlic
3, tbsp. Yogurt
Instructions
De-skin the chicken, clean, wash and cut into 8 pieces. Drain all water and dry.
Grind one onion, ginger and garlic adding 2 tsp. water. Strain the paste and add the resulting juice to the chicken.
Add all the ingredients from salt to the powdered cumin seeds to the chicken. Add the yogurt and mix well. Crush cardamom, cinnamon and cloves and add. Marinate for 30 minutes.
Heat oil and fry the remaining chopped onion till brown in color. Add the marinated chicken and cook with occasional stirring till the oil starts to separate.
Add two cups of water and add to the chicken and bring to boil. Reduce heat and simmer for another 10 minutes.
Serve hot with basmati rice.
Ratings
daisee (9/24/2005)….The Colour did not turn out to be that nice as in picture. Taste was okay
Stephen3 (4/24/2004)….JUST HAD FOR TEA 10/10 ADD A LITTLE FRESH CORIANDER(USED CHICKEN BREAST INSTEAD(X 4 OFF) NICE MEAL MRS N
bukun (3/24/2004)….eXcellent Recipe. Thanks Mom!! I tell my wife to make this one whenever I Feel to the have chicken curry.
shri (12/25/2003)….Really yummy and authentic and so easy!
henrik (9/26/2003)….Absolutely beautiful. Reminded me fondly of the curries I ate when I was a hippy in India!! Beautiful gravy, so much nicer than the thick, cloying sauces so common in Indian restaurants in my area (Glasgow)
stuti25 (2/6/2003)….great chicken curry ….it is almost the way my ma made ..reminded me of her….good stuff ……..
shijee2 (1/23/2003)….I found this recipe really helpful
Shibaram
MALU (12/5/2002)….Very tasty..
fara (12/2/2002)….its very very good
Monika (11/14/2002)….Excellent…U can get taste of India while setting here in USA.
Hinanaz (10/27/2002)….Your family will shower you with complements -Hina
Note: these are the reviews posted by users on the old angithi.com website,
which has been now ported to this blog site.