g walk.
Servings: 4 | Time To Prepare: 20 Minute
The most popular snack for all time. You will find in Calcutta street corner this popular item is freshly fried and people relishing while on evening walk.
s | Submitted By: Chitra Nag
---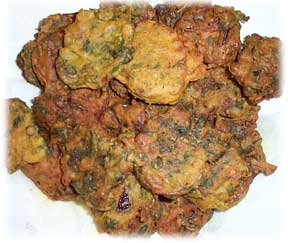 Ingredients
1, Cup Gram Flour (Besan)
0.5, Tsp Turmeric powder
0.5, Tsp Red Chili Powder
5, tsp Ajwain (Tymol Seeds)
1, Tsp or to taste Salt
1,  Eggplant (Begun)
15, Leaves Spinach
1, Onion (Sliced)
Instructions:
Take besan in a large bowl and add water gradually and mix till the batter is of a pouring consistency. Add salt, ajwain, red chili and turmeric powder and mix well. Beat the batter well with a spoon.
Cut egg plant to thin slices. Cut onion into slices. Wash about 10 large spinach leaves.
Heat half a cup of oil in a deep frying pan. Dip the egg plant slices, onion and spinach leaves in the batter and one by one deep fry these.
Remove from pan keep on a paper towel to soak the oil. Serve hot with mint chutney or tomato sauce.
Ratings
mitikasach (5/4/2002)….Make sure to mix the besan and water properly. The more you mix the better crispy and fluffy the pakoras turn out. I also used thinly sliced (round) potatoes to make the pakora.