A tasty tea time snack made out of Lentil.
Servings: 4 | Time To Prepare: 25 Minutes | Submitted By: Chitra Nag
---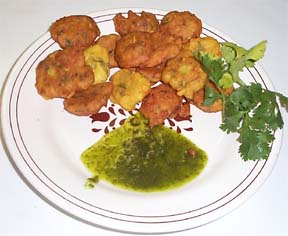 Ingredients
1, Cup Yellow Matar Dal
1, Finely Chopped Onion
4, Finely Chopped Green Chili
6, Stalks Finely Chopped Cilantro
1, Tsp Salt
0.5, tsp Black Cumin Seed
0.5, tsp Red Chili Powder
Instructions
Soak the Matar Dal in water for 4 to 5 hours. Grind the Dal with little amount of water so as to keep the consistency enough to form small balls.
Add all the other ingredients and mix it properly.
Heat the oil in a frying pan. Make small balls and deep fry it.
Eat with Green Chutney or Tomato Sauce. Goes good with hot tea
Ratings
mitikasach (5/4/2002)….Great tea time snacks. Very simple to make and yummy!!
Note: these are the reviews posted by users on the old angithi.com website,
which has been now ported to this blog site.