Deep fried pancakes made with all purpose flour.
Servings: 20 | Time To Prepare: 20 Minutes | Submitted By: Chitra Nag
---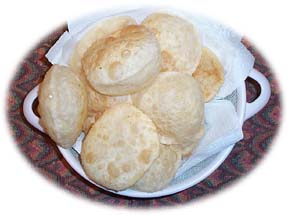 Ingredients
2, Cups All Purpose Flour
1/2, Tsp Salt
1.5, Cup Cooking Oil
Instructions
Sift all purpose flour and salt. Add 1/2 tbsp oil. Knead lightly. Add water and knead well till becomes soft. Water should be added gradually. Keep aside covered for about 20 minutes.
Divide into about 20 portions. Roll out each portion into a round size of about four inch diameter.
Heat oil to very hot in a deep frying pan. Fry one at a time with light tapping so that it puffs, turn over till light golden. Drain and remove.
Serve hot with any curry or can be taken as it is.
Note:-Important points to note are – kneading and frying. Too much kneading with oil will make very crunchy luchis. But luchis should be soft and puffed. Oil should be very hot otherwise it will not puff. It takes only about 30 to 35 seconds for each luchi to puff up. Can be made with whole wheat flour (atta), then it is called Poori. Can also be made with equal proportion of Maida and atta.
Ratings
twinkle83 (9/4/2006)….though i had a tough time rolling it out, still it was nice and tasty.
party (3/16/2004)….very good. one cup chapathi powder & one cup all purpose .
subhayu_basu (9/23/2002)….i think adding 1 teaspoon of sugar also helps in puffing the luchi
Gundam_Sandrock (2/8/2001)….I tried it with a chicken and cauliflower sweet/sour sauce from Italy and it was the best food i have eaten in my life!
Note: these are the reviews posted by users on the old angithi.com website,
which has been now ported to this blog site.