Roasted eggplant fried with spices. If you like eggplant then you will love this popular North Indian preparation.
Servings: 4 | Time To Prepare: 45 minutes | Submitted By: Chitra Nag
---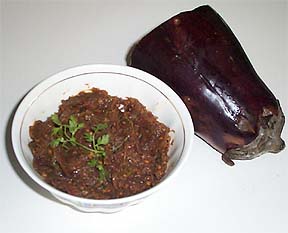 Ingredients
1, Lb ( Large ) Eggplant
1, Chopped Onion
1, Pod Garlic
3, Chopped Green Chili
To Taste Salt
1, Tbsp Cooking Oil
1, Tbsp Chopped Cilantro
1, Small (chopped ) Tomato
1, tsp. Whole Red Chili
Instructions
Wash the eggplant. Prick all over with a fork and apply some oil.
Broil the eggplant in a conventional oven preheated to 375 F for approximately 30 minutes, turning over a few times to ensure even roasting.
Remove from oven, cool and remove the skin. To this add green chilies, coriander leaves, salt and mash the roasted eggplant.
Heat oil in a pan. Add the chopped onion and garlic and fry till soft. Add the red chili powder and fry for a minute. Add the chopped tomato and cook for another 5 minutes.
Add the eggplant mixture and fry for an additional 10 – 15 minutes till it turns a rich brown color.
Serve with hot chapattis, puris or parathas.