Tasty Indian Wheat Bread goes very well with cholle/chana
Servings: 4 | Time To Prepare: 2 hour | Submitted By: Shantanu Nag
---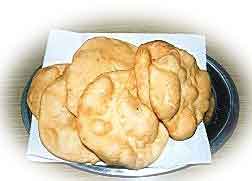 Ingredients
2.5, cups All Purpose Flour
1/2, cup Yogurt
1/2, tsp Baking Powder
a pinch, Baking soda
2, tsp Sugar
1/2, cup, for frying Cooking Oil
1, tsp Salt
Instructions
In a bowl add flour, baking powder, baking soda and salt. Mix well and pass it through a sieve.
Add yogurt, sugar and water (as required) and mix gradually to make a soft dough by light kneading.
Add two tbsp. oil into the dough and cover the dough with a wet cloth. Keep it aside for an hour (The longer the better)
Roll them into small golf size balls. Cover and keep to ferment for ten minutes.
Flatten the balls to a round shape of 1 inch diameter. Then roll into five inch diameter circle.
Heat oil in a kadai and deep fry bhaturas on high flame till light on both sides.
Serve hot with cholle.
Ratings
mehkashi (10/16/2006)….i enjoyed both preparing and eating it.
twinkle83 (8/29/2006)….This recipe did very well with my family. Everybody liked it. It was very tasty. Thanks
lizseger (3/9/2006)….awesome recipe — can also use some whey if you have it instead of the water. (note to the person who said the old version of the recipe was 'disappointing' — when you make bread, you always add liquid or flour as needed. start small! the amounts listed are often maximums. this is standard in bread recipes.)
ADMIN (10/10/2004)….Thanks for the feedback and for pointing out the problem. We have fixed the recipe. Thanks
stuti25 (9/29/2004)….Caution …beware of this recipe….this recipe is not tried by the author …& i can bet on it …
i just tried it today …& the water is far too much …it doesn not even need half a cup of water …another let down frm angithi