An authentic mouth watering Bengali recipe. Cooked with fish and vegetables.
Servings: 4 | Time To Prepare: 30 Minutes | Submitted By: Chitra Nag
---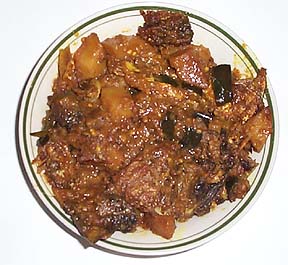 Ingredients
2, lb Fish Head
0.5, Tsp Turmeric powder
To taste Salt
2, Potato
1, Eggplant
4, Oz Pumpkin
1, Large (chopped) Onion
3, Pods Garlic
2, Tsp Red Chili Powder
4, Sliced Green Chili
0.5, Tsp Sugar
Instructions
Clean and wash the fish. Can use grass carp or buffalo. Apply turmeric powder and salt. Keep aside for 10 minutes.
Cut potato, eggplant and pumpkin into long pieces. Grind onion, garlic and red chili to a paste.
Heat oil. Fry fish head/fish and keep aside. In the same oil fry the paste from Step 2 and turmeric powder lightly. Add fish heads, vegetables and green chilies and fry for about 15 minutes.
Add salt, sugar and enough water to cook vegetables and fish. Cover and simmer till most of the water evaporates and the gravy becomes thick.
Serve hot with plain rice.
Note: these are the reviews posted by users on the old angithi.com website,
which has been now ported to this blog site.