Fish cooked in yogurt and spices, authentic Bengali style..Yummmmy
Servings: 4 | Time To Prepare: 20 Minutes | Submitted By: Chitra Nag
---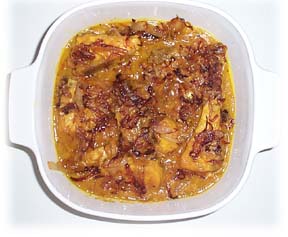 Ingredients
1, Lb (Grass Carp, Rehu, Buffalo etc.) Fish
1, Tsp. Turmeric powder
Salt (to taste)
1, Medium Onion
1, Inch Piece Ginger
6, Green Chili
5, Tbsp. (beaten) Yogurt
3, Cardamom
5, Cloves
0.5, Inch piece Cinnamon
3, Tbsp. Cooking Oil
1, Tbsp. Ghee
10, Broken pieces Cashew nut
2, Tbsp. Raisins
0.5, Tsp. Sugar
Instructions
Clean and wash fish pieces thoroughly. Apply salt and turmeric powder and keep aside for 10 minutes.
Grind onion and ginger into a fine paste. Add this paste, green chilies, bay leaf, salt and sugar to the beaten curd. Pour this mixture all over the fish pieces and marinate for about 20 minutes.
Heat oil and ghee, fry chopped onion till light brown in color. Add the soaked fish pieces one by one and turning them over after a few seconds. Pour the remaining marinade mix. Add raisins and cashew nuts and bring to a boil.
Cover and simmer in reduced heat for ten minutes till the fish is done. Add crushed cardamom, cloves and cinnamon. Add salt and sugar to taste. Cook in slow fire for 6 to 8 minutes. Serve hot with basmati rice.
Ratings
MALU (12/5/2002)….Great dish.
Laurel (10/7/2001)….This was an exotic dish with many wonderful flavors
Note: these are the reviews posted by users on the old angithi.com website,
which has been now ported to this blog site.