A wonderful mixture of shrimp, chicken and vegetables — for noodles lovers a perfect dish to spoil
Servings: 4 | Time To Prepare: 35 Minutes | Submitted By: J.K. Nag
---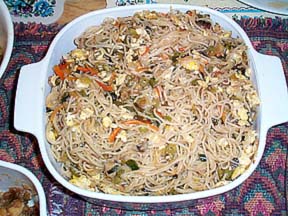 Ingredients
1, Lb (Chinese type) Noodles
1.5, Cup Shrimp
1, Cup (cooked and shredded) Chicken
2, Bunches Spring Onion (Scallions)
2, Chopped Onion
1, tsp (grated) Ginger
1, Carrot
1, red color Bell Pepper
8, French Bean
1.5, Cup Bean Sprout
2, Tbsp Soya Sauce
1, Tsp Chili Oil
1, Tsp Chili Sauce
A pinch Ajinomoto
To taste Salt
4, Chopped Green Chili
Instructions
Wash and devein shrimps.
Peel carrot and cut into thin strips of 2 in X 1/8 in. Slice beans also into same size. Cut red bell pepper into 1/4 in strips. Chop spring onion into 1 inch length, slice the small onion bulb into small pieces. Grate the ginger.
Boil 5 cups of water, add one teaspoon of salt and add the noodles. Boil for about four minutes. Drain into a strainer and rinse in cold water and drain thoroughly.
Toss 1 table spoon of oil and shake. This will ensure that the noodles will not stick together.
Heat 2 table spoon of oil in a non stick fry pan and add the shrimps and stir fry lightly – about 3 to 4 minutes. Remove and keep aside.
Heat 6 table spoon oil, add the onion fry for two minute. Add all the vegetables, grated ginger and green chilies except bean sprouts and stir fry for three minutes.
Add bean sprouts, salt, sugar and cook for two minutes.
Add the cooked noodles and fry for three minutes. Add fried shrimps, shredded chicken and fry for a minute. Add Soya sauce, chili oil, chili sauce and ajinomoto and cook for 1-2 minutes.
Serve hot with any side dish.
Ratings
bsaha (2/18/2007)….It was the PERFECT homemade chinese noodle dish. It was absolutely delicious. A . take my word for it. A MUST try!!!