Spicy Indian Style Burger. You might never go back to McDonalds once you try this.
Servings: 4 | Time To Prepare: 30 minutes | Submitted By: Chitra Nag
---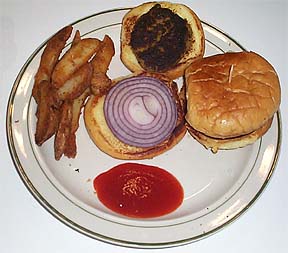 Ingredients
1, lb ground Chicken
2, chopped Spring Onion (Scallions)
3, chopped Green Chili
2, sliced Onion
4, tbsp. Milk
4, slices Bread
4, sliced in two halves Burger Bun
1, sliced Tomato
4, leaf (sized for the bun) Lettuce
1, tsp. Red Chili Powder
2, tbsp. Mayonnaise
to taste Salt
1, tsp Peppercorns
Instructions
Mix chopped spring onion, green chilies and salt with the minced meat.
Soak 4 pieces of bread in milk. Squeeze out the bread and mix thoroughly in the minced chicken.
Take a handful of the minced meat and shape into 3-4 inch round flat patties.
Heat oil in flat non-stick pan and fry turning over a few times till well done and brown in color.
Cut each bun into two halves and lightly fry both sides.
Mix red chili powder with mayonnaise to make chili mayonnaise.
Spread chili mayonnaise on inside of the bun, place lettuce leaf, sautéed onion, slice of tomato and the fried chicken patty. Sprinkle some black pepper powder and place the other half of the bun.
Serve hot with tomato ketchup and mustard sauce.
Ratings
Hinanaz (1/26/2005)….It's really delicious for adults and children alike.I added some italian parsley for extra flavor.