A magnificent chicken recipe cooked with yogurt, almond and rich spices. Goes very well with Nan or Pulao. This is an all time favorite recipe for Indian cooking.
Servings: 2 | Time To Prepare: 30 minutes | Submitted By: Chitra Nag
---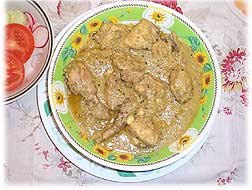 Ingredients
24, Oz Chicken
4, whole Cardamom
1, in piece Cinnamon
6, Cloves
8, Peppercorns
1, tsp Black Cumin Seed
0.5, tsp Mace
0.5, tsp Nutmeg powder
1, tbsp chopped Cilantro
5, tbsp Yogurt
2, medium Onion
2.5, in piece Ginger
15, pods Garlic
6, Green Chili
0.5, tsp Saffron
2, tbsp Milk
4, tbsp Cooking Oil
1.25, tsp or to taste Salt
1, cup (warm) Water
0.5, cup Almond
Instructions
De-skin one whole Cornish Hen cut into eight pieces, wash and set aside.
Grind all ingredients from cardamom to cilantro to a fine paste. Smear the masala paste and yogurt on the chicken and marinate for one hour.
Grind the onion, ginger, garlic and green chilies to a fine paste. Heat, crush and soak saffron in the hot milk. Soak almond in milk, remove skin and grind to a paste.
Heat oil and fry the masala paste from Step 3. Add the marinated chicken and fry till light brown, stirring occasionally. Add salt and one cup of warm water. Cover with a tight lid and cook on slow fire till tender and dry.
Add the saffron and almond paste and cook for about five minutes. Remove from fire and serve hot with rice or parathas.
Ratings
asingh (5/29/2002)….Very tasty preparation. Goes well with Nan or pulao.