Indian style chinese chili chicken in gravy, cooked with lots of onions and green chilies. Very tasty, must try it out.
Servings: 4 | Time To Prepare: 45 min | Submitted By: Priyanka Nag
---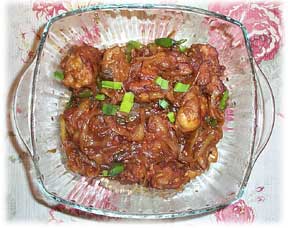 Ingredients
1, lb, cut into small pcs Chicken
2, tbsp Corn Flour
2, tbsp All Purpose Flour
1, beaten Egg
1/2, tsp Salt
1/2, tsp Ground Black Pepper
1, large, sliced Onion
8, sliced, or as reqd. Green Chili
1/2, tsp, optional Red Chili Powder
2, tbsp Soya Sauce
2, tbsp Corn Flour
1, tsp Vinegar
1, cup Water
1/2, tsp, optional Ajinomoto
to taste Salt
1/2, cup Cooking Oil
Instructions
Make the batter by mixing all the ingredients from corn flour to ground black pepper. Marinate the chicken pcs for 30 min.
Heat cooking oil in a wok or kadai. Deep fry the chicken pcs till golden brown. Keep aside.
In the same oil, add green chilies. Fry for a minute. Add sliced onions, and fry for 2 minutes in medium to high heat.
Add the fried chicken pcs, and fry for 5 minutes. Add red chili powder (optional).
In the meantime, prepare a sauce by mixing soya sauce, vinegar, corn flour in a cup of water. Mix properly.
Add the prepared sauce to the fried chicken and onions. Fry for few minutes, till the gravy thickens. Remove from heat. Serve with fried rice or noodles.
More Pictures
| | | |
| --- | --- | --- |
| 1 | | Deep fried chicken pieces. |
| 2 | | Fry green chili in oil |
| 3 | | Add onions and fry. |
| 4 | | Add fried chicken pieces. |
| 5 | | Add the sauce |
| 6 | | Fry till gravy thickens. |