Also known as choto macch er chachra (spicy small fish). Smelt fish is usually available in Chinese market; you can substitute with any other small fish.
Servings: 4 | Time To Prepare: 1 hr | Submitted By: Priyanka Nag
---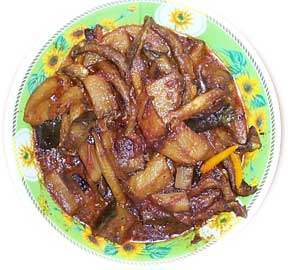 Ingredients
1, lb, cleaned properly Smelt Fish
2, medium, cut into wedges Potato
1, tbsp, paste Garlic
1/2, tbsp, paste Ginger
1, medium, finely chopped Onion
1, tsp, adjust according to your level Red Chili Powder
1/2, tsp Turmeric powder
to taste Salt
1/2, tsp Cumin Seed Powder
3/4, cup, for frying fish and curry Cooking Oil
Instructions
Clean the fish properly. Mix with turmeric and salt.
Heat 1/2 cup oil in a frying pan. Deep fry the fish. Be carefull of oil spluttering out. So cover the pan as soon as you add the fish. Remove once fried, keep aside.
Heat rest of the oil in a frying pan. Fry the onion till light brown. Add the potatoes wedges and fry for 5 min.
Add ginger-garlic paste, 1/2 tsp turmeric, red chili, and cumin seed powder. Fry in medium heat till oil starts coming out.
Add the fried fish. Fry for 5 minutes. For extra hot, add some green chilies. Add 1/2 cup water and bring to boil. Simmer for 10 min. Serve hot with rice. Enjoy!!
Ratings
rrahman (9/30/2004)….This is a great staple. Works with Salmon, etc just as well.
Note: these are the reviews posted by users on the old angithi.com website,
which has been now ported to this blog site.