Light and tasty potato curry with potato skins. Great with puris and chapattis.
Servings: 4 | Time To Prepare: 25 min | Submitted By: Chitra Nag
---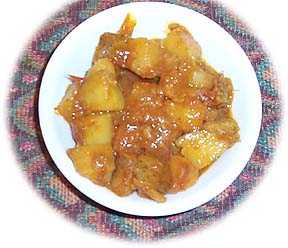 Ingredients
8, medium, cut into eight pieces Potato
1/2, tsp Turmeric powder
to taste Salt
1, tsp Red Chili Powder
1, tsp Coriander Powder
1, tsp Cumin Seed Powder
1/2, tsp Panch Phoron
2, Whole Red Chili
1, tbsp Cooking Oil
as reqd. Water
Instructions
Cut each potato into eight pieces without removing the skin.
Heat oil, add panch phoron and whole red chili.
Add all the spices. Add the potatoes and cook for a few minutes.
Add water, salt and cook in medium heat till well done.