Bengal Gram (Chollar Dal) Lentil  Cooked with Coconut. A quick and easy preparation. Excellent  taste. A great preparation for Bengali events.
Servings: 6 | Time To Prepare: 45 Minutes | Submitted By: Chitra Nag
---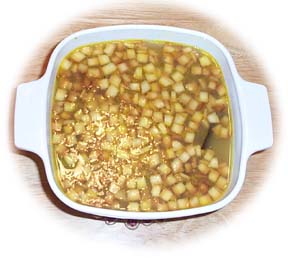 Ingredients
1, Cup Bengal Gram
5, Cups Water
0.5, Tsp Coriander Seeds
0.5, Tsp Cumin Seed Powder
0.5, Inch, finely chopped Ginger
0.5, Tsp Turmeric powder
3, Sliced Green Chili
2, Tbsp Ghee
0.5, Cup, diced Coconut
1, Tsp Sugar
0.5, tsp, whole Cumin Seeds
2, Bay Leaf
2, Whole Red Chili
To taste Salt
Instructions
Mix coriander & cumin seeds powder with red chili powder adding little water. Grate ginger into a paste.
Add 5 cups of water into Bengal gram. Add above ground spices, ginger, salt, sugar, green chilies and turmeric powder. Bring to boil, reduce heat and simmer till cooked but not dissolved.
Slice  fresh coconut and cut into 1/4 inch cubes. Fry in butter to light brown. Add fried coconut pieces to the boiled lentil.
Heat ghee or butter. Add cumin seeds, bay leaf and whole red chili and fry till splutters and becomes light brown.
Pour in the boiled dal and cook in reduced heat for 6/7 minutes or till dal thickens to medium consistency.
Serve hot with basmati rice or paratha.
Ratings
bghosh (7/15/2002)….Wonderful recipe.
suppu (6/12/2002)….my hubby just loves it.
Note: these are the reviews posted by users on the old angithi.com website,
which has been now ported to this blog site.