Rich spicy curry which makes fish everybody's favorite
Servings: 4 | Time To Prepare: 30 Minutes | Submitted By: Chitra Nag
---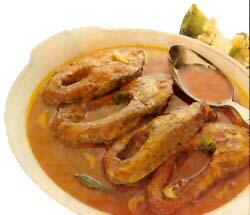 Ingredients
1, Lb Fish
1, Tsp Turmeric powder
4, Sliced Green Chili
1, Tsp Cumin Seeds
2, Tbsp Yogurt
2.cloves of  Garlic
1, Large chopped Onion
0.5, Inch piece Ginger
1, Tsp Coriander Seeds
2, Tsp Cumin Seed Powder
6 Whole Whole Red Chili
1, Tsp (optional) Sugar
3, Bay Leaf
Salt to taste
0.5, Cup Cooking Oil
Instructions
Take fresh grass carp, white sea bass or halibut or rehu/katla  fish. Cut into 3/4 inch steaks. Wash thoroughly. Rub salt and turmeric powder all over the pieces.
Grind to a fine paste coriander, cumin seeds, red chili and ginger adding little water.
Heat 1/2 cup oil and fry the fish pieces. Ensure that the oil is very hot before adding fish other wise fish pieces can stick. Turn each piece and fry till brown. Remove the fish pieces.
In the same oil add cumin seeds and bay leaf and when splutters, add finely chopped onion and garlic and fry to light brown. Add the ground spices, green chili and cook for three minutes. Add two table-spoon of yogurt (curd) and fry till oil starts separating out. Stir occasionally.
Add the fish pieces and turn over. Add three cups of water and bring to boil. Add salt and sugar and check for seasoning. Reduce heat and simmer for at least ten minutes till gravy becomes thick.
Ratings
nkhan78 (12/1/2006)….This recipe came out pretty good. My family really liked it. All the recipes I have tried from Angithi came out very good. Thanks for the recipes.
shantam (4/25/2006)….Tried this recipe with bighead (available in most chinese fish stores in the US). Came out pretty close to the authentic Rui/Rohu kalia.
Mandar (6/2/2004)….Really awesome!!!
Thnks so muchh for this authentic recipie
moab (6/12/2002)….A bengalis favourite
Note: these are the reviews posted by users on the old angithi.com website,
which has been now ported to this blog site.