Hilsa Fish Paturi — A very very delicious unforgettable fish curry
Servings: 4 | Time To Prepare: 30 Minutes | Submitted By: Chitra Nag
---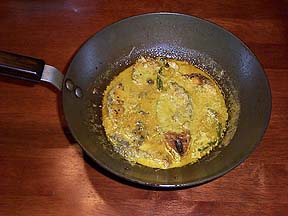 Ingredients
3, Lb (Hilsa- whole) Fish
3, Tbsp Mustard seeds
9, Green Chili
1.5, Tsp Turmeric powder
3, Tbsp Red Chili Powder
1.5, Tsp or to taste Salt
0.5, Tsp Nigella (Kalo Jeera)
Instructions
Take one whole hilsa fish and wash. After removing the head cut into steaks about 3/4 inch thick. Remove the scales. Select 8 pieces. Rub 1 teaspoon of turmeric powder and 1 tea spoon of salt all over the pieces.
Grind to a fine paste the mustard seeds, 5 green chilies and 1/2 tea spoon of salt in an electric grinder. You will need to add water about 1/2 cup and it will take about 4 minutes, mustard seeds being tougher.
Mix red chili powder and turmeric powder with 3 table-spoon of water. For better taste, it is advisable to grind to a fine paste 10 or 12 whole red chili with two table-spoon of water in a grinder.
Heat oil in a non-stick thick bottom pan. Add kalonji and 4 green chilies and after about 1/2minute add red chili powder and turmeric powder mixture and fry with stirring for about 4 to 5 minutes. ( If you do not want to be too hot then fry for a few minutes more adding little water)
Add the hilsa fish pieces one by one. Turn each piece. Add the mustard paste diluted with water ( strain through a strainer so that only the juice is used ) and two green chili sliced and bring to boil adding 1/2 cup of water. Reduce heat, simmer for about ten minutes till gravy thickens and continue frying carefully turning the pieced till gravy becomes little dry.
Serve hot with basmati rice.