A spicy coconut sauce.
Servings: 6 | Time To Prepare: 15 minutes | Submitted By: Chitra Nag
---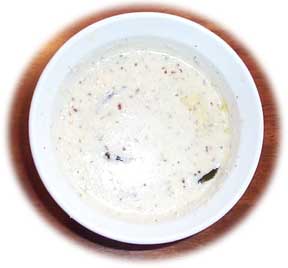 Ingredients
1, cup (grated) Coconut
2, tbsp (hot) Water
0.5, tsp Salt
6, stalks (chopped finely) Cilantro
3, (chopped) Green Chili
0.5, inch (chopped finely) Ginger
2, tsp Cooking Oil
0.5, tsp Mustard seeds
2, whole Whole Red Chili (Cut into two halves)
Instructions
Grind coconut to a smooth paste. Add hot water and salt and mix thoroughly. Add very finely chopped cilantro and again mix thoroughly. Mix green chilies and ginger.
Heat oil in a small pan. When quite hot add mustard seeds. When  starts  spluttering add  red chills and immediately remove the pan off the heat and pour this seasoning into the coconut mixture and mix well.