Cottage cheese with spinach and spices. All time vegetarians favorite.
Servings: 4 | Time To Prepare: 20 minutes | Submitted By: Chitra Nag
---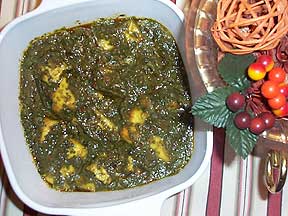 Ingredients
12, oz (cubed) Paneer (Cottage Cheese)
8, oz (leaves) Spinach
4, Garlic
1, inch piece Ginger
4, Green Chili
1,tsp Methi (Fenugreek Seeds)
1, large (chopped) Tomato
0.5, tsp Turmeric powder
to taste Salt
0.5, cup Milk
2, tbsp Cooking Oil
2, tbsp Cream
1, large (chopped) Onion
Instructions
Wash spinach leaves. Cook in microwave oven for 3 or 4 minutes. Cool and grind to a smooth paste.
Heat 1 tbsp. oil in a pan and lightly fry the paneer pieces.
Grind the garlic, ginger and green chili to a fine paste.
Heat oil in the same pan and add methi and fry till splutters.Add onion and fry the chopped onion till tender Add the masala paste and fry for 2 to 3 minutes. Add tomato and cook till it becomes soft.
Add spinach paste, salt and turmeric powder and cook for 4 minutes. Add milk and allow to simmer. Add the fried paneer pieces, cook for a few minutes and remove from heat.
Add cream and serve hot with rice or parathas.
Ratings
chhandoshi (9/9/2003)….the dish is royal and simply delicious . the great thing about it is it's so easy to prepare