A hot and spicy eggplant preparation, adds extra spice to any meal. (Beguner Chachari in Bengali)
Servings: 4 | Time To Prepare: 30 minutes | Submitted By: Chitra Nag
---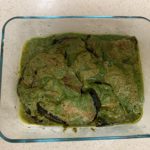 Ingredients
1, large Eggplant
3, tbsp Mustard seeds
8, Green Chili
14, stalks Cilantro
To taste Salt
6/7 tbsp Cooking Oil (preferably mustard oil)
1, tsp Nigella ( kalo jeera )
1, Tsp Turmeric powder
0.5, cup Water
1, Tsp Sugar
Instructions
Slice eggplant into 1/2 inch thick pieces that look like half moons.
Rub turmeric powder, salt and sugar on the eggplant pieces and set aside.
Grind mustard seeds along with four green chilies and salt to fine paste in a blender, adding half a cup of water. This will take up to five minutes depending on the power setting on your blender.
Grind cilantro stalks adding water as required to a fine paste.
Heat oil in a frying pan and fry eggplant pieces to light brown.
Remove the eggplant pieces. Add nigella/ kalo jeera and cook for a few seconds. Add the fried eggplant pieces.
Strain the ground mustard paste, adding directly to the fried eggplant. At the same time add 4 sliced green chilies and bring to a boil. Reduce heat and simmer for about 8 to 10 minutes.
Add the ground cilantro paste evenly and cook for a minute.
Garnish with some chopped cilantro and serve hot with chapattis, parathas or rice.
Ratings
babuji (1/14/2007)….This 'beguner jhaal' is an excellent dish especially for vegetarians, but how do you succesfully make mustard paste in a blender, without it becoming bitter? Traditionally it is made by gently ginding the mustard seeds in a mortar and pestle.
daisee (10/30/2005)….Very nice recipe
tannumoni (8/26/2003)….I have made it today… It turned out great… Thanks:)
lorettachaudhary (7/16/2003)….I tried this recepie & it was really great.
bukun (8/18/2002)….I love this recipe, which my mom makes. It is her recipe and I am sure everyone will love it.
Note: these are the reviews posted by users on the old angithi.com website,
which has been now ported to this blog site.