Fresh fried potato wedges with salt and spices.
Servings: 4 | Time To Prepare: 20 min | Submitted By: Pallob Nag
---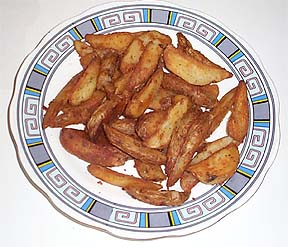 Ingredients
1/2, lb Potato
1/2, cup Cooking Oil
1/2, tsp Ground Black Pepper
to taste Salt
1/4, tsp Red Chili Powder
1/4, tsp Turmeric powder
Instructions
Wash and cut the potato into wedges. Do not peel off the skin.
Add the red chili powder, turmeric powder, and 1/2 tsp salt and mix it properly along with the potatoes.
Heat Cooking Oil. Add the potatoes and deep fry till light golden brown.
Remove from oil. Add salt and pepper to taste.
Note: these are the reviews posted by users on the old angithi.com website,
which has been now ported to this blog site.