Most famous lentil preparation of West Bengal.
Servings: 4 | Time To Prepare: 30 min. | Submitted By: Chitra Nag
---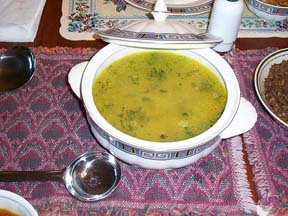 Ingredients
1/2, cup Red Lentil
to taste Salt
1/2, tsp Turmeric powder
3, cup Water
4, Green Chili
2, Whole Red Chili
1/4, tsp Fenugreek seeds
1/4, tsp Radhuni
1, tbsp Cooking Oil
1, tbsp of leaves Cilantro
Instructions
 Boil the Red Lentil with salt, turmeric powder, water, and green chili for 15 min.
Remove from heat and mix it properly with a hand  blender.
Heat the oil in a pan. Add whole Red chili, Radhuni, and Fenugreek seeds. Fry for a minute. Add the boiled lentil and bring it to boil. Remove from heat.
Garnish with cilantro leaves.
Serve hot with rice along with Aloo bhaja or begun bhaja.
Ratings
amrita biswas (6/27/2002)….its my favourate preparation with aloo bhaja.
Note: these are the reviews posted by users on the old angithi.com website,
which has been now ported to this blog site.