A tasty combination of prawn and Basmati rice.
Servings: 4 | Time To Prepare: 2 hr. | Submitted By: Priyanka Nag
---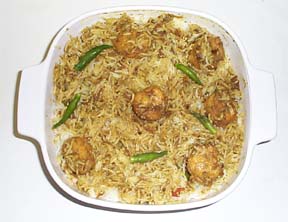 Ingredients
1, lb Prawn
2, cups Basmati Rice
6, Green Chili
3/4, cup of leaves Cilantro
1, tbsp paste Ginger
1, tbsp paste Garlic
1/2, tsp Cumin Seed Powder
1, tsp Coriander Powder
1, tsp Turmeric powder
1/2, tsp Garam Masala Powder
1, cup finely sliced Onion
1/2, chopped Tomato
4, tbsp Cooking Oil
1, tbsp Ghee
to taste Salt
2, tbsp Coconut Milk
Instructions
Wash the rice. Soak the rice in water for 30 min. Drain the water and cook the rice in a rice cooker as you normally cook rice. Add the ghee while cooking the rice.
Make a fine paste of green chili, cilantro, garlic, ginger and 3 tbsp water. Keep it aside.
Clean & Devein the prawns. Mix 1/2 tsp turmeric powder and 1/2 tsp salt.
Heat oil in a pan. Fry the prawns lightly for 3 minutes and keep it aside.
In the same oil add the sliced onion and fry till light golden brown.
Add the wet paste, and fry in medium heat for 5 minutes.
Add rest of the spices and tomatoes and fry in medium heat till oil starts leaving the side of the pan.
Add the fried prawns and fry for 5 to 10 minutes till a thick consistency is reached. Add little water if necessary
Grease the serving dish with little bit of ghee and put a layer of rice then a layer of prawn and then again rice. Garnish it with fried onions and cilantro. Goes very well with Prawn Malai Curry
More Pictures
| | | |
| --- | --- | --- |
| 1 | | Fry prawns in oil. |
| 2 | | Keep fried prawns aside. |
| 3 | | Fried onions with wet paste |
| 4 | | Add rest of spices. |
| 5 | | Fry properly till oil starts coming out. Fry with prawns |
| 6 | | Prawn is ready. |
| 7 | | Rice cooked in rice cooker |
| 8 | | Put a layer of prawn paste |
| 9 | | Another layer of rice |
| 10 | | And finally done. Prawn Biryani!! |
Ratings
natashadatta (9/23/2003)….Soooo easy to make yet the taste is almost authentic. The only change I made to it was that I cooked it with very little olive oil. Added a bay leaf along with the garam masalas. Added a spoon of ghee at the end and a little organic chicken stalk. Also covered the casserol and put in the oven(350 F) for 10 min. It brought the aroma of the ghee and the garam massala even more. The chicken stalk made it rich. Thanks
dcook (7/28/2003)….excellent flavor and easy to make
bobby (7/15/2002)….This recipe is worth $100.00. Glad to be a premier member. Keep it up Angithi.
Note: these are the reviews posted by users on the old angithi.com website,
which has been now ported to this blog site.