Authentic Chinese style hot and spicy prawns.
Servings: 4 | Time To Prepare: 25 Minutes | Submitted By: Chitra Nag
---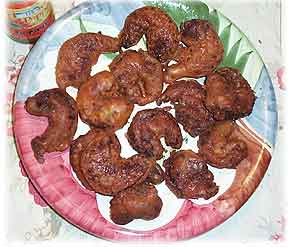 Ingredients
20, Deveined and cleaned Prawn
2, Tbsp Chili Oil
2, Tbsp Chili Sauce
2, Chopped
Stalks chopped Spring Onion (Scallions)
2, Tbsp Soya Sauce
6, Pods chopped Garlic
0.5, inch piece Ginger
4, Chopped Green Chili
To taste Salt
A pinch Ajinomoto
3, Tbsp Cooking Oil
Instructions
De-vein and wash the prawns thoroughly.
Grind the garlic and ginger and add Soya sauce, chili sauce, chili oil and chopped green chili to prepare the sauce.
Heat oil  fry the prawns. Fry spring onion lightly.
Add the sauce, salt and ajinomoto and fry till done.
Ratings
Vibha (12/20/2002)….Comes out Very tasty.