Traditional sweet — mouthwatering fried sweet swirls, made of sugar and  flour. It is one of the most widely used Indian Sweets. In Calcutta every Sweet Shop make it in the morning and is a great combination with Singara (Samosa) at breakfast time.
Servings: 6 | Time To Prepare: 45 minutes | Submitted By: Chitra Nag
---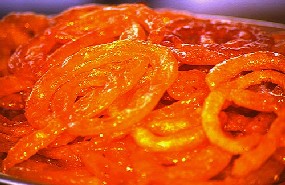 Ingredients
1,  lb Maida
3, cups Ghee
2, lbs Sugar
1, liter Water
1/2, tsp Saffron
2, (use inner seeds only) Cardamom
Instructions
With the maida (flour) and sufficient cold water, make a batter. The consistency should be similar to that of thick cream. Let it stand it in a warm place for 24 hours to ferment.
When ready, have deep pan and bring to boil ghee or any other cooking oil. Fill an ordinary small funnel (with your finger over the outlet) with the batter, and when your hand is over the middle of the pan, remove your finger and let the batter run into continuous double circles or figure eight. (May require a little practice)
Make about six to eight jallebies depending on the size of your pan and allow to set, and turn them. They should be fried joined on to one another.
When quite crisp and of a pale biscuit color, separate Jallebies and put them in flavored syrup. After two or three minutes take the Jallebies out of the syrup and drain.
The Syrup — Boil water. Add sugar, saffron and cardamom seeds and boil till syrup turns thick. Keep syrup warm.