Cauliflower deep fried in a special batter. Nice and crunchy. Another Bengali specialty. Can be eaten just like that or as a side dish with lentil and rice.
Servings: 4 | Time To Prepare: 30 min | Submitted By: Chitra Nag
---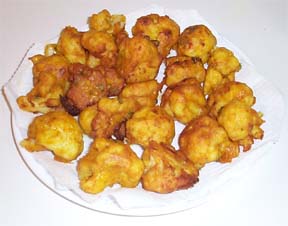 Ingredients
1, large Cauliflower
1, inch (grated) Ginger
to taste Salt
2, Green Chili
1, cup Rice Flour
1/2, tsp Red Chili Powder
1/2, tsp Turmeric powder
2, cup Cooking Oil
Instructions
Separate florets of Cauliflower. Wash. Boil water in a large pan. Add grated ginger, salt and green chili. Put cauliflower florets in boiling water. Ensure that Cauliflower florets are only half cooked. Remove cauliflower florets into  a strainer to drain out the water. Allow to cool.
Prepare the batter :- Mix rice flour with just sufficient water to make the batter of thick consistency. Add salt, turmeric powder and red chili powder and mix thoroughly.
Heat oil. Dip each cauliflower florets in the batter and deep fry till golden brown. Serve hot.
Note: these are the reviews posted by users on the old angithi.com website,
which has been now ported to this blog site.