Bread dipped in egg mixture and fried – a very tasty and delicious snack
Servings: 2 | Time To Prepare: 15 minute | Submitted By: Chitra Nag
---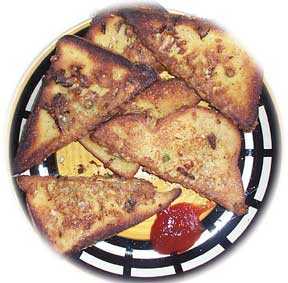 Ingredients
4, Egg
4, slices Bread
1, chopped Onion
1/2, tsp (grated) Ginger
4, chopped Green Chili
to taste Salt
a pinch Turmeric powder
1/2, cup Cooking Oil
1, tbsp  Milk
Instructions
Cut each slice of bread diagonally.
Beat eggs. Add chopped onion, ginger, green chili, milk, turmeric powder and salt.
Heat oil in a non stick frying pan. Dip each piece of bread in the egg mixture (ensure well covered) and deep fry till light brown.
Serve hot sprinkled with pepper powder and salt as required along with tomato sauce.
Ratings
ADMIN (9/13/2002)….Turmeric is used for color and also it brings a good taste. If you want you can skip it also.
tanuka (9/12/2002)….why turmeric?
Note: these are the reviews posted by users on the old angithi.com website,
which has been now ported to this blog site.