Your own home made Potato fries.
Servings: 2 | Time To Prepare:  | Submitted By: Chitra Nag
---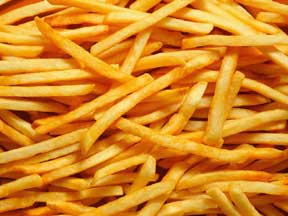 Ingredients
4, large Potato
3, tbsp or as reqd Salt
1, cup Cooking Oil
1/2, tsp Peppercorns
Instructions
Wash and peel potatoes. Slice lengthwise each potato in the middle. Make slices of 1/4 inch strips by slicing lengthwise from each halves.
Boil water add salt. Take the potato slices in a big strainer and dip the strainer into the boiling water for about a minute. Remove and drain water.
Spread the potato strips on a paper towel.
Heat oil in a non stick pan. Add the potato strips – a few at a time and stir. Reduce heat and fry till light golden brown.
Serve hot sprinkled with salt and pepper.