Paratha stuffed with cauliflower  – paratha with a different taste.
Servings: 4 | Time To Prepare: 25 minutes | Submitted By: Chitra Nag
---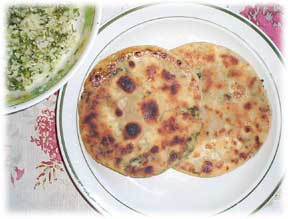 Ingredients
1/2, cup Maida
1, grated Cauliflower
2, cup (chopped) Cilantro
1, chopped Onion
6, chopped Green Chili
to taste Salt
1/2, cup Ghee
Instructions
Knead maida adding salt and one tablespoon of ghee. Add little water and knead well.
Wash cauliflower and cut the florets into small pieces. Grate the cauliflower. Add salt. Squeeze out the water.
Mix chopped cilantro, onion, ginger and green chili and salt into the cauliflower.
For each paratha take a handful of dough  and stuff required amount of cauliflower mixture in the center. Make into round shape and roll each into proper size of paratha.
Heat ghee in a frying pan and fry both sides turning over a few times. Add ghee and fry turning over till parathas are well fried. Serve hot with chutney/sauce.
Ratings
33456 (12/25/2006)….Boring
Note: these are the reviews posted by users on the old angithi.com website,
which has been now ported to this blog site.