Black Split Gram Dal  cooked with lots of  Garlic. Taste of garlic makes this lentil preparation a good beginning to any meal.
Servings: 8 | Time To Prepare: 45 Minutes | Submitted By: Chitra Nag
---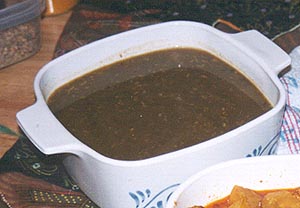 Ingredients
1, Cup (split) Black Gram (Urad)
5, Cups Water
0.5, Tsp Turmeric powder
1, Tsp Whole Red Chili
0.5, Tsp Cumin Seed Powder
0.5, Tsp Coriander Seeds
3, Chopped Green Chili
2, Whole Whole Red Chili
5, cloves of  Garlic (finely chopped)
To taste Salt
0.5, Tsp Sugar
1 tbsp Oil
Instructions
Heat a pan and dry roast the black split gram dal (urad dal). Wash the roasted dal.
 Put the dal with five cups of water in a pressure cooker.
Add coriander, cumin, turmeric and red chili powder, green chili, salt and sugar. Close lid and bring to boil. Continue till about 12 to 15 whistles. Cool and open the pressure cooker.(Check that the dal is cooked).
Heat oil and fry whole red chili till light brown. Add chopped garlic and fry till brown. Add the cooked dal and bring to boil, reduce heat and simmer for five minutes.
Serve hot with steamed rice .
Ratings
lizseger (3/9/2006)….Very quick, very good. The first time it seemed the water wasn't enough — it stuck to the bottom of the pressure cooker and was a bit thick, but the next time I added a dab of ghee to the dal and water in the pressure cooker to prevent sticking, and it worked beautifully.
Note: these are the reviews posted by users on the old angithi.com website,
which has been now ported to this blog site.