A great vegetarians delight.
Servings:  | Time To Prepare: 20 Minute | Submitted By: Chitra Nag
---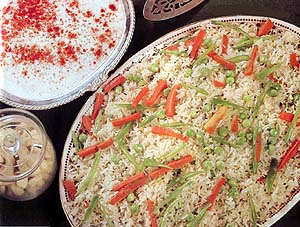 Ingredients
2, Cup Rice
4, Cup Water
3, Oz (chopped) Spring Onion (Scallions)
0.5, Cup Cauliflower
1, Cup Green Peas
1, Cut into thin strips Carrot
0.5, Cup (chopped) French Bean
To taste Salt
A pinch Ajinomoto
1, Tsp Soya Sauce
2, Chopped Green Chili
1, Tsp Ginger
Instructions
Wash and soak rice in four cups of water for one hour. Cook rice till halt done.
Heat oil and add spring onion, ginger and green chili and fry for about two minutes. Add all the vegetables and stir. Fry for three minutes. Add the half cooked rice and cook for fifteen minutes with stirring. Add Soya sauce and ajinomoto and mix and remove from heat
Serve hot.
Ratings
n_roychaudhuri (12/29/2007)….AJINOMOTO IS BANNED ALMOST ALL OVER THE WORLD. IT IS CALLED MSG. MONOSODIUM GLUCAMATE. IT MAKES FOOD TASTY BUT IS VERY BAD FOR HEALTH. NABONITA
babuji (1/14/2007)….This is a very delicate Chinese style fried rice recipe. She didn't mention salt because, it is in the soy sauce. Adding ketchup would ruin the recipe from a light, fresh, healthy recipe, to a fake, fast-food-style recipe. What is this habbit of adding 'ketchup' to everything? I would leave all the ingredients as is, and only adjust seasonings according to taste.
anvi_c (1/21/2006)….You didnt mention to add salt.Also,some people may like adding a little ketchup along with soya sauce.
brijeshh (2/18/2005)….something is wrong