Meat cooked with spinach and oriental spices
Servings: 4 | Time To Prepare: 40 Minutes | Submitted By: Chitra Nag
---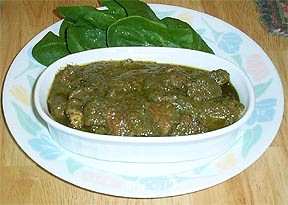 Ingredients
1, Lb Meat (lamb or goat)
8, Oz Spinach
2, Chopped Onion
1, Chopped Tomato
1, Inch piece Ginger
10, Stalk Cilantro
5, Green Chili
1, Tsp. Mustard seeds
0.5, Tsp. Fenugreek seeds
1, Tsp. Red Chili Powder
0.5, Tsp. Turmeric powder
1.5, Tsp. or to taste Salt
0.5, Tsp. Sugar
4, tbsp. Ghee
Instructions
Clean and wash mutton. Wash thoroughly spinach and chop finely.
Grind all ingredients from ginger to salt to fine paste with little water.
Heat ghee. Fry onion for 3 minutes and add the masala paste and fry for four minutes.
Add mutton pieces and continue cooking till ghee starts to separate.
Add spinach, tomato and sugar and little water and continue cooking till done
Serve hot.
Ratings
Stephen3 (5/14/2004)….very nice used pork spare rib joint10/10 mrs n
Note: these are the reviews posted by users on the old angithi.com website,
which has been now ported to this blog site.