This mouth watering dish is favorite of all those who love eggs.
Servings: 4 | Time To Prepare: 45 min | Submitted By: Priyanka Nag
---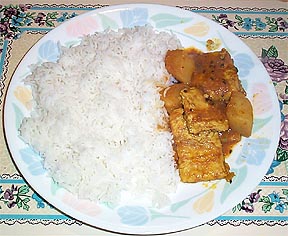 Ingredients
6, Egg
1, tsp Garam Masala Powder
2, cloves to paste Garlic
2, inches to paste Ginger
6, chopped Green Chili
2, tbsp Milk
1, large finely chopped Onion
2, small size cut into cubes Potato
2, tsp Whole Red Chili
to taste Salt
1, small, thinly sliced Tomato
0.5, tsp Turmeric powder
Instructions
Beat eggs. Add chopped onion, ginger, salt, green chilies, pinch of turmeric powder and whisk
Heat oil in a frying pan, pour the egg batter and make omelets. Make  6 omelets out of it. Cut eacht into three pieces.
In another frying pan heat oil add one tsp cumin seeds and two bay leaf. When splutters add  chopped onions. Fry till light golden brown.
To it add potatoes and fry for 1-2 min. Then add ginger, garlic paste, turmeric, red chili powder and stir for 2 min. Add tomato to it and fry till  oil separates in the pan.
Add milk to it then stir for few minutes. Then add 1 cup water, omelets, salt, garam masala and wait till one boil comes. Lower the heat and let it simmer for 10 to 15 min.
Serve hot with Basmati Rice.
Ratings
nishad (3/20/2003)….it was nice – wish there was more curry though
mitikasach (5/5/2002)….This is different preparation for eggs. Liked it very much. Will cook again!!