Different kind of egg curry in which the boiled eggs is first fried in a special batter, and then a special curry is made. Very tasty.
Servings: 4 | Time To Prepare: 45 min | Submitted By: Chitra Nag
---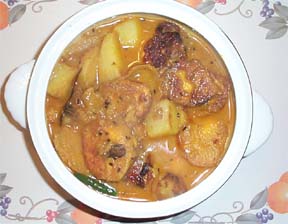 Ingredients
8, pc Egg
1, large Onion
0.5, inch Ginger
1, flake Garlic
1, tsp grounded Coriander Seeds
1, tsp Cumin Seed Powder
0.5, tsp Turmeric powder
1, tsp Red Chili Powder
1, cup Whole Wheat Flour
1.5, cup Water
2, pc Bay Leaf
0.5, tsp Cumin Seeds
6, tbsp Cooking Oil
2, pc Potato
Instructions
Make a paste of Onion, Ginger, Garlic, Coriander Powder, Cumin Powder, turmeric and Red Chill Powder.
Make another batter of Wheat, 1/2 tsp. Turmeric Powder, and 1/2 cup water.
Hard boiled the eggs. Cut into 2 pieces. Dip the eggs in the batter and then deep fry it in oil. Peel the potatoes and mix it with salt and little turmeric powder. Then deep fry the potatoes till they turn golden brown. Keep the eggs and potatoes aside.
Heat the oil and add the Bay leaves and Cumin Seeds. Fry for about 15 sec then add the paste made in step 1.
Add the masala paste and then fry for 10 to 15 min at low heat till oil comes out.
Add 1 cup water and bring it to boil. Then add the fried eggs and the potatoes and boil it for 5 minutes. Add salt to taste. Serve with hot rice.
Note: these are the reviews posted by users on the old angithi.com website,
which has been now ported to this blog site.