Spicy Potato curry.
Servings: 4 | Time To Prepare: 30 min | Submitted By: Shantanu Nag
---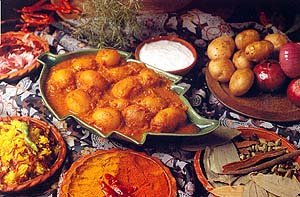 Ingredients
6, medium, cut into 4 pc Potato
2, medium Onion
4, cloves Garlic
1, tsp Coriander Powder
1/2, tsp Cumin Seed Powder
1.5, tsp Red Chili Powder
1/4, tsp Turmeric powder
to taste Salt
2, tbsp Ghee
4, tbsp Cooking Oil
1, cup Water
1/2, tsp Garam Masala Powder
1, tbsp Tomato Puree
2, Bay Leaf
1/2, inch Ginger
Instructions
Mix pinch of turmeric powder and salt to the potato pieces and shallow fry in a pan and keep it aside.
Finely Chop 1.5 onions and keep it aside. Make a paste of the half onion, garlic and ginger and keep it aside.
Heat 1 tbsp Ghee and all of the cooking oil in a frying pan. Add bay leaf and fry for 30 sec.
Then add the chopped onions, and fry it till golden brown. Add the ginger-garlic-onion paste and fry for another 2 minutes.
Add rest of the spices and the tomato puree less Garam masala powder. Fry in low heat till oil leaves the side of the pan.
Add the fried potatoes and stir for another minute or so. Add water, sugar, salt, Garam masala powder, and ghee and bring it to boil.
Cook it in low heat till the potatoes are properly cooked and the gravy is thick.
Serve with paratha or luchi.
Ratings
surjade (11/27/2005)….simply delicious.
daisee (10/30/2005)….I have tried other recipes Aloo dum recipes before. This one is the best 🙂
noori6 (6/14/2005)….Very tasty
sowmyakiran (5/5/2004)….Tastes great as is.
P.S:Try adding 1 tbsp of curd just before serving.
TanyaAuzam (4/25/2004)….Easy to make and tastes great
Shinu (3/2/2004)….Excellent dish……
varuna (4/21/2003)….yes this recipe is very delicious.
stuti25 (2/6/2003)….not good
crazylops (2/16/2002)….very spicy and very good…
nitin (11/13/2001)….You can add boiled and then fried eggs to it and call it alu/konir dum. –Alpana Sarangapani
rachna (1/24/2001)….It is good easy and fast to cook.
Note: these are the reviews posted by users on the old angithi.com website,
which has been now ported to this blog site.