Paneer cooked in light gravy. A tasty Bengali preparation.
Servings: 4 | Time To Prepare: 30 min | Submitted By: Priyanka Nag
---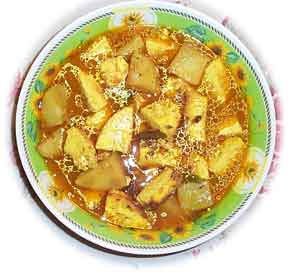 Ingredients
1/2, lb cut into small cubes Paneer (Cottage Cheese)
2, small cut into cubes Potato
1, medium, finely sliced Onion
1/2, inch Ginger
5, Green Chili
1, tsp Coriander Seeds
1/2, tsp Cumin Seeds
1.5, tsp Turmeric powder
2, tsp Tomato Puree
1/2, cup Cooking Oil
2, cup Water
to taste Salt
a pinch Sugar
1/2, tsp Garam Masala Powder
a pinch Cumin Seeds
2, Bay Leaf
Instructions
Mix the potato with salt and 1/2 tsp turmeric powder. Heat 1/2 of the oil and deep fry till the potato turns golden brown. Remove and keep aside. Do the exactly same steps for the paneer. (Use the same oil)
Make a paste of Ginger, Coriander seeds, Cumin Seeds and green chili in a mixer. Extract the juice and keep it aside.
Heat the rest of the oil. Add the Bay Leafs, and pinch of Jeera seeds. When starts spluttering add the sliced onion. Fry till golden brown.
Add the juice from step 2. Add the rest of turmeric powder. Fry for 2 min. Add the tomato puree. Fry in medium heat till oil leaves the side of the pan. (Add little water if required)
Add the garam masala powder, fried potato and fried paneer. Mix with spices and fry for 5 min.
Add water, salt and sugar. Bring it to boil. Reduce to medium heat and simmer till the potatoes are properly cooked. Serve with rice.
Ratings
surjade (11/27/2005)….the recipe is simply delicious.i cooked it today in poland and my polish wife and her family just loved it.thanx a lot.
daisee (10/30/2005)….My favourite Paneer recipe.
moumanna (6/11/2002)….delicious
Note: these are the reviews posted by users on the old angithi.com website,
which has been now ported to this blog site.