The tastiest fish deep fried in oil.
Servings: 4 | Time To Prepare: 30 min | Submitted By: Priyanka Nag
---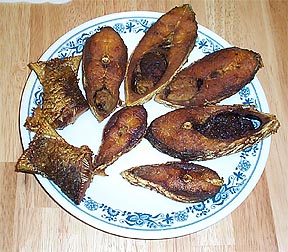 Ingredients
1, lb Hilsa Shad fish
1/2, tsp Turmeric powder
to taste Salt
1/2, cup Mustard Oil
Instructions
Wash and clean the Fish properly. Cut into 6 pieces. It is always a good idea to get the fish cut from the grocery store itself.
Add salt an turmeric to the fish and keep it aside for few minutes.
Heat Oil in a frying pan (kadai), then add the fish slowly into the oil. Fry the fish in medium heat till the fish turns golden brown.
Serve it with hot rice and the oil in which the fish was fried to make a delicious meal. Add green chili and salt as required.