Mutton Cooked in Light Gravy. An all time favorite in East India.
Servings: 4 | Time To Prepare: 2 hour | Submitted By: Shantanu Nag
---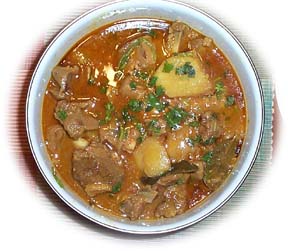 Ingredients
2, lb Meat (lamb or goat)
5, pods Garlic
1.5, inch Ginger
2, medium Onion
8, Red Chili  (dried)
5, Cardamom
1/2, inch Cinnamon
5, Cloves
1/4, tsp Mace
6, Peppercorns
1, tsp Coriander Powder
1/2, tsp Cumin Seed Powder
2, large Potato
5, tbsp Cooking Oil
1, tsp Ghee
to taste Salt
3, cups Water
1, bunch Cilantro
1, tsp Turmeric powder
1/2, tsp Sugar
2, Bay Leaf
1, tsp Red Chili Powder
1/2, cup Yogurt
Instructions
Grind from Garlic to Peppercorns in a mixer. Add 4 tbsp water also use only half onion for the paste. Now extract the juices from the paste.
Cut the meat into small cube like pieces of 1 inch by 1 inch. Wash it properly.
Add the half cup yogurt, ground masala paste juice , coriander powder, cumin powder, red chili powder and turmeric powder. Mix it properly with the meat and let it marinate for an hour. (the more the better)
Peel and cut the potato into large pieces of like 1 inch by 1 inch and keep it aside.
Heat the oil, add the bay leaves, sugar and fry for 1 min. Add the sliced onions, and fry till light brown.
Add the marinated meat and bring it to full boil. Add the potatoes and reduce the heat to medium heat. Cover the pan and let it fry for 20 min.
Check to see if the potato is boiled properly. Remove the potatoes once boiled, and keep it aside.
Cover the pan and fry it till oil starts coming out. (Remember not to be hasty and keep on stirring frequently till oil has come out completely)
Next add the water and bring it to boil on full heat. Reduce the heat to medium, cover the pan and let it simmer for 20 min. (till the meat has become tender)
Add the potatoes and let it simmer for another 10 min. Remove from heat and add the ghee. Garnish it with finely chopped cilantro. Serve hot with plain white rice.
Ratings
ghadge (1/10/2005)….absolutely delicious, i rate this recipe very highly and shall endeavour to use more recipes from this wonderful site. laurence
Stephen3 (4/5/2004)….used beef instead of mutton just as nice
ADMIN (10/26/2003)….Half cup Yogurt to be added. Thanks
mou123 (10/24/2003)….amount of curd not mentioned..
jhimli
vash (10/5/2003)….my wife said i'm the best chef she came across after this mansher jhol
pralphs (5/10/2002)….Mutton Curry was very tasty. I marinated the mutton for 4 hrs.