Red Kidney Beans Cooked with oriental spices. Rajma and Chawl (Rice) is a very popular combination of Northern India.
Servings: 4 | Time To Prepare: 30 min | Submitted By: Chitra Nag
---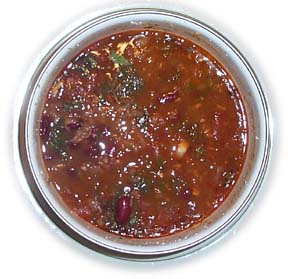 Ingredients
250 gm (8 oz.), Red Kidney Beans
2, Bay Leaf
2, Black Cardamom
1, tsp Ghee
5, cups Water
to taste Salt
3, small finely chopped Onion
1.5 , inch finely chopped Ginger
10 , pods finely chopped Garlic
5, finely chopped Green Chili
2, tsp Red Chili Powder
1, large finely chopped Tomato
3, tbsp Cooking Oil
1, stalk finely chopped Cilantro
1, tbsp (optional) Cream
1, tsp Black Cumin Seed (Shahi Jeera)
4, Cardamom
1, inch Cinnamon
8, Cloves
6, Peppercorns
1, tbsp Ghee
Instructions
Soak Rajma beans overnight.
Put all ingredients from rajma beans to salt in a pressure cooker. Cook in high heat till full cooking pressure is reached. Then reduce to medium heat and cook for 20 minutes.
When cooled, separate rajma beans from the water and keep aside both rajma beans and water.
Heat oil and ghee. Add finely chopped onion, ginger, and garlic and green chili. Fry till light brown.
Add red chili powder and chopped tomato and cook till well fried.
Add cooked Rajma beans and garam masala (ground  Shah Zeera to Peppercorns) and fry for 4 to 5 minutes. Add water, which has been kept separated. Bring to boil and cook on medium heat till rajma beans are very well cooked.
Remove from heat. Add chopped green coriander leaves and cream. Serve hot with rice.
Ratings
monica_gupta14 (12/14/2003)….YA it was Deeliiiciiious!!!!
Minu1 (7/31/2003)….Really liked them
tigger (6/5/2003)….i tried this, but since most of the spices were not ground, my guests did not enjoy this recipe.
kali (3/29/2003)….my first rajma, though i used ready made garam masala it was loved by everybody..
kseniya (6/17/2002)….Excellent!
I tried a lot of other recipes before, but now I always cook this only.
ASHIMA (12/20/2001)….I LUV RAJMA I AM GONNA TRY IT TODAY
Note: these are the reviews posted by users on the old angithi.com website,
which has been now ported to this blog site.