Deadly Chicken Cooked With Chilies Chinese Style.
Servings: 4 | Time To Prepare: 20 min | Submitted By: Pallob Nag
---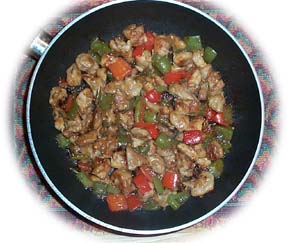 Ingredients
1, lb boneless breast, cooked  Chicken
to taste Salt
1, white Egg
1/3, cup Cooking Oil
1.5, tbsp Corn Flour
1/2, inch, sliced Ginger
3, diced Red Chili pepper (dried)
1, small green or red Bell Pepper
5, sliced Green Chili
4, tbsp Soya Sauce
2, tbsp Vinegar
1, tsp Ajinomoto
Instructions
Cut the chicken into bite-sized pieces. Add  salt, egg white, one tbsp oil, and corn flour. Mix and rub these evenly over the chicken to form a thin coating, and set aside for 10 min.
Chop  ginger and dried red chili peppers. Cut the bell peppers into bite-sized pieces.
Heat the remaining oil in a frying pan. Add the ginger and red chili peppers and stir fry for 1 min.
Add the chicken pieces and fry for 10 min. or till it is light brown. Add the bell pepper and fry for another 5 min.
Sauce preparation: Mix soy sauce, vinegar, sliced green chili, ajinomoto, one tsp corn starch, and 1/2 cup of chicken stock (can be replaced by water) in a small bowl.
Add the sauce to the chicken, cover and simmer for 5 min. Serve hot with fried rice or plain rice or chowmein.
Ratings
ikzf (7/12/2005)….just tried it to day
children loved it very much ,
thank u for sharing
aradhanavarma2002 (7/6/2003)….Yummy!!!!Need I saymore??!!
Monika (11/8/2002)….I tried so many other way to make it but this is the best recipe.And tasty too.