Delicious snack as starter for any occasion.
Servings: 4 | Time To Prepare: 45 minutes | Submitted By: Chitra Nag
---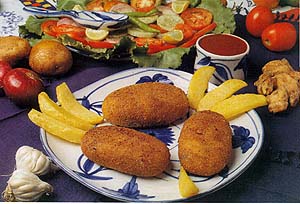 Ingredients
1, lb Minced Meat (lamb or goat)
1 Large Onion (chopped)
0.5, in piece  Ginger (Chopped finely)
3 pods Garlic (chopped)
2, tsp Red Chili Powder
4, chopped Green Chili
0.5, cup  Cilantro (chopped finely)
4, Cardamom
0.5, inch piece Cinnamon
6,  Cloves
to taste Salt
2, Egg
Bread crumb (as reqd.)
2, large Potato
3, Tbsp Cooking Oil
Instructions
Grind together cardamom, cinnamon and cloves to a fine powder.
Boil the potato, mash and set aside.
Heat oil, add  onion, ginger and garlic. Sauté for 2 minutes. Saute till light brown. Add ground meat, red chili powder, ground mixture of cinnamon, cardamom and cloves  and salt. Continue cooking with stirring till meat is done. Remove from heat and cool.
Mix the mashed potato with the cooked meat.
Add one egg, one chopped onion, green chili and cilantro to the meat mixture and mix thoroughly.
Beat the white of one egg.
Take the meat mixture of required quantity to make into shape of cutlet – either round,oval or triangular.  Make eight cutlets. One by one, dip into the white of the egg and then onto the bread crumb and press with both hands on all side, and make a nice shape of the cutlet.
Heat oil.  Ensure that the oil is very hot and deep fry the cutlets one at a time in medium heat till light brown.
Serve hot, garnished with sliced onions.
mehkashi (10/28/2006)….it was awesome i'm making this tonight as well. my fiance asked me to make the cutlets more often. by the way, i used beef keema instead of mutton. also i added some things of my own it was delicious!!!
daisyguha (6/2/2003)….It was very tasty. My husband enjoyed it a lot. Definetly try it again.
larissa (5/15/2002)….It was very nice……really enjoyed it.
mitikasach (5/4/2002)….Excellent taste. Took me an hour to make it. Great for parties. Will try it again.
bukun (7/8/2000)….Very Tasty. Is a must try for meat lovers.
Note: these are the reviews posted by users on the old angithi.com website,
which has been now ported to this blog site.