A finger licking appetizer, good after a spicy meal or any other time.
Servings: 4 | Time To Prepare: 30 minutes | Submitted By: Chitra Nag
---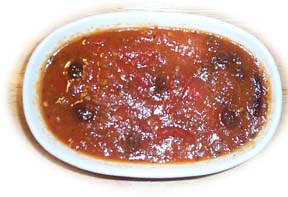 Ingredients
4, lb (rich red colored) Tomato
1.75, cup Sugar
1, chopped finely Onion
4, pods chopped finely Garlic
2, inch piece (chopped finely) Ginger
2, tsp Red Chili Powder
0.5, tsp Peppercorns
1, tsp Cumin Seed Powder
1, Big  Cardamom
0.5, tsp Cinnamon
to taste  Salt
8, oz Raisins
8, oz Dates
1.5, tsp Acetic Acid
0.5, tsp Sodium Benzoate
Instructions
Tie tomatoes in a thin cloth and dip into boiling water for 3 minutes. Take out and dip immediately into cold water for 3 minutes. Peel the outer skin and chop finely.
Mix all the ingredients from sugar to dry dates and tomato pulps in a thick bottom sauce pan and put on medium heat and stir constantly till it starts boiling. Continue cooking in medium heat with frequent stirring till gravy thickens.
No water is required to be added. The chutney will cook in its own juices.
Remove and cool and serve.
If you want to store for a long period then add ascetic ac id and sodium Benzoite. Take three empty jam bottles, sterilize the bottles, dry them completely. Bottle the hot chutney but do not screw the caps till it cools down. This chutney will keep for six months.
Note: Sterilize the bottles by placing in warm water and boiling for 5 minutes. Drain and dry thoroughly.
Ratings
u8465 (11/2/2007)….very good