Minced meat with oriental spices makes a great snack item.
Servings: 6 | Time To Prepare: 45 Minute | Submitted By: Chitra Nag
---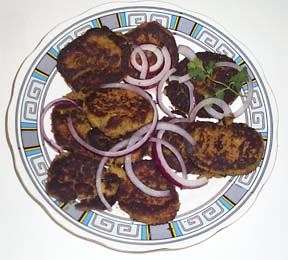 Ingredients
1, Lb, minced Meat (lamb or goat)
1/2, cup Bengal Gram
2, Small (chopped) Onion
0.5, Inch piece (chopped) Ginger
6, Pods (chopped) Garlic
3, Whole (or 1 tsp powder) Whole Red Chili
1, Tsp Cumin Seeds
1, Tsp Coriander Seeds
0.5, Tsp Turmeric powder
4, Chopped Green Chili
4, Whole Cardamom
1, Inch piece Cinnamon
8, Cloves
1/4, tsp Nutmeg powder
4, Flakes Mace
3, Bay Leaf
8, Peppercorns
1, tsp Salt
12, Almond
1/4, cup Coconut (grated)
2, tsp Posto
1, Cup Water
4, Stalks Cilantro
3, Chopped Green Chili
1, Large Egg
Instructions
Put all the ingredients from meat to water in pressure cooker and cook until 5 or 6 whistles. Else you can also cook in a pan for about 25 to 30 minutes till well done. Ensure that the meat mixture is not too dry and not too watery.
Cool and remove and grind the mixture to a fine paste in an electric grinder. Check that the mixture is just about dry before removing from the pressure cooker. If you find too much watery then cook without lid for a few minutes till the meat mixture is little dry.
Mix chopped cilantro (green coriander leaves), green chili chopped and one egg with the meat mixture.
Take a handful of the mashed meat and make into round shape and then flatten each ball in the palm of your hand.
Heat one table spoon oil in a flat pan and fry each of the kabobs in reduced heat turning a few times till both sides are light brown.
Serve hot garnished with onion rings and lemon slice.
Ratings
indranib2000 (1/21/2006)….she writes in the recipe abt mixing ingredients from meat to water except that water does not seem to be in the list at all…what ingredients r we mixing in step 1.
Titlee (8/27/2004)….Excellent!!!! It just melts in the mouth.
Note: these are the reviews posted by users on the old angithi.com website,
which has been now ported to this blog site.