Traditional delicacy of Bengal. Poppy seeds are cooked in many different ways and a must for almost everyday meal for people of  Midnapore region of Bengal. A tasty preparation using potato, ridged gourd and poppy seeds.
Servings: 4 | Time To Prepare: 30 min | Submitted By: Chitra Nag
---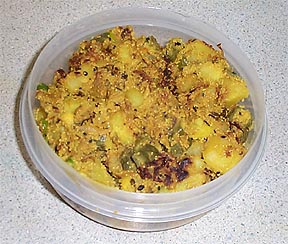 Ingredients
1/2, cup,  Poppy seeds (soak in water for an hour)
4, chopped Green Chili
1/4, cup, grated Coconut
1/2, tsp Salt
2,  Jhinga /Ridged Gourd (cut into 1/2 inch pcs)
2, large, Potato (cut into 12 pcs )
1, tsp Panch Phoron
to taste Salt
1/2, tsp Sugar
2, Whole Red Chili
Instructions
Grind poppy seeds, coconut, green chili and salt with water to a smooth paste.
Heat oil add panch-phoron and whole red chili and fry for a minute.
Add potato, jhinga and salt and fry covering the pan in low heat. Stir a few times till half done.
Add poppy seed paste and sugar and cook till water dries out and gets fried a little.
Note: these are the reviews posted by users on the old angithi.com website,
which has been now ported to this blog site.