Great starter for any kind of cuisine. Tasty and easy to cook! Want to make real chicken stock. Then check it out?
Servings: 6 | Time To Prepare: 60 Minutes | Submitted By: J.K. Nag
---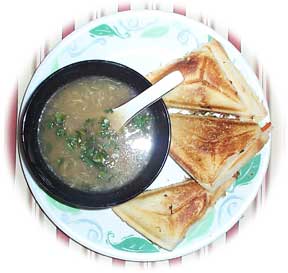 Ingredients
2, lb, leg and breast piece Chicken
1, cut into small dice Carrot
8, Peppercorns
1/2, inch Ginger (Chopped)
5, pods Garlic (Crushed)
3, quarts Water
3, stalk, chopped Celery
8, Spring Onion (Chopped)
to taste Salt
a pinch of sugar
2, tsp Corn Flour
Instructions
Put all the ingredients into a large bowl from chicken to spring onion and bring to a boil.
Reduce heat and allow to simmer, stirring occasionally for about 1 hour.
Take out the chicken pieces. Strain and cool soup. Refrigerate and remove the layer of fat from top. The chicken stock is ready.
To Prepare Chicken Clear Soup: Shred chicken pieces and use 1/2 cup of shredded chicken for making chicken soup and keep the balance shredded chicken making for making chicken sandwich.
Boil the stock. Add shredded chicken. Add salt and sugar. Add corn flour (dissolved in half cup of water) as necessary depending on whether you like light or thick soup and boil for 5 minutes.
Pour into soup bowls and garnish with chopped spring onion. Serve hot.
Ratings.
bghosh (5/10/2002)….2 in one recipe. Chicken soup was excellent.